Carriage House Inn



Located at 181 Grenfell Heights
Grand Falls-Windsor, Newfoundland
A2A 2J2
Exit 20
Telephone: (709) 489-7185 Fax: (709)489-1990
Toll free: 1-800-563-7133 (Reservations Only)
email: paula.flood@roadrunner.nf.net
Located in the beautiful Exploits Valley.
Quiet and exceptionally clean, with a very cozy country decor and lots of space to relax!
Situated on six acres, Carriage House Inn rated Four Star by Canada Select has well appointed rooms, library, large air-conditioned sitting room, and verandah complete with porch swing and the patio deck which captures the afternoon sun and sunset.
We offer quality accommodations and hospitality at it's finest.
Hospitality provided by owners and hosts Paula and Dennis Flood.


Visit us and enjoy our cozy country atmosphere.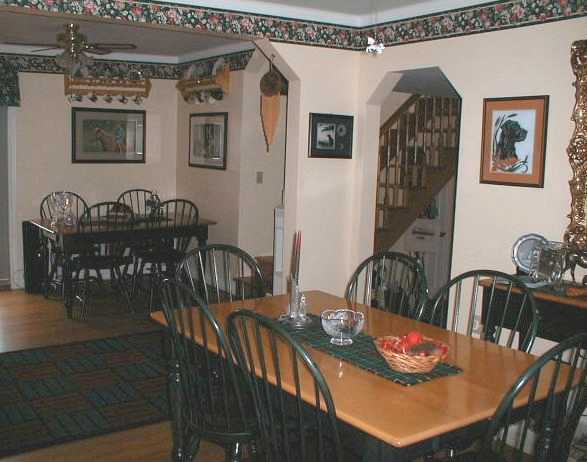 Non-Smoking, Library, Sun Deck, Private Bath, Phone, Television, Complimentary Breakfast, Carriage House Originals Handcrafts
Pets Welcomed


---


Amenites

Two rooms with Double Beds
Private Bath
Color/Cable Remote T.V., Clock radios
Ironing Board/Iron
Toiletries, Robes, Hairdryers

One Room With Twin beds
with all of the above

Suite with extra-large bathroom
Brass footed soaker tub
Queen size bed

Suite with all the above PLUS
Private sitting Room, Patio Deck
Queen Size Bed and Whirlpool Bath

Rates:
$59 Single
$79 Double
$99 Suite
Complimentary Breakfast included with all rates




To View our Rooms Click here




Nearby Attractions

Golf Course
Tourist Chalet and Crafts
Mary March Museum
Logging Exhibit
Salmonid Interpretation Centre
Nature Walks
Summer Theater Events

Additional Links

The kettle is always on!





You are the visitor to our page!

Page created and maintained by:
Simply I.T.